A lot of moving companies make it relatively easy for people to enlist their help in local moves, but customers can expect to take a hit to their wallets when planning a move out of their state.
This is why using moving quotes for out of state play an important role in your relocation strategy.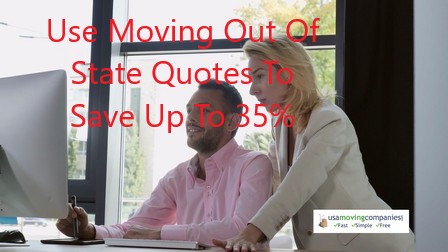 Use Moving Out Of State Quotes To Gain The Best Position:
Out-of-state moves are often more expensive because they require more gas, more time, and more staff to complete.
Here are a few steps you can take to make sure your move runs smoothly:
The first thing you should do is make a timeline of your move so that you can make sure different tasks are completed by your moving date. These tasks could include going through and boxing or giving away various items in your residence so that they are prepared before you move.
Next, you need to save some money to pay for a moving service and the other costs associated with moving. These costs can include not only the service, but also the costs associated with down payments on your new residence or fees to start up the utility services in your new residence.
When it gets closer to the time of your move, you will need to change your address when it gets closer to your move date. This will assure that all of your bills and subscriptions go to the right home. You will also need to call any credit card companies or other any companies you have bills with of the change.
Lastly, and most importantly, you need to take the time to thoroughly research your options and get an out-of-state moving quote. This task can seem tedious and time-consuming, but it is an easy way to save money when you are moving.
But, thanks to USAMovingCompanies.com, you won't have to spend a ton of time searching for the right out of state moving company. All you have to do is visit USAMovingCompanies.com and type in your zip code to find moving quotes for out of state.
After that, simply enter some information on your move like the date of your move, the location, and the size of your home. You will be connected instantly with a number of out-of-state moving quotes. All you have to do is compare them to save up to 35% on your out-of-state relocation.