Moving out of the state you currently reside in comes with a number of changes and complications.
Not only do you have to adjust to new laws and a new environment, but you will also have to go through a number of steps just to get there and get settled in.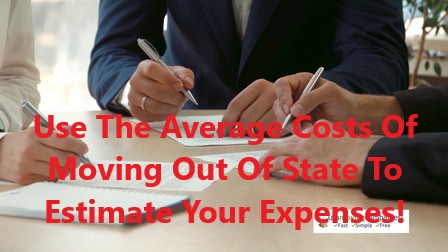 Gauge The Average Cost Of Moving Out Of The State By Sampling:
But there are a few financial situations you need to be prepared for when moving out of state so you can really understand what the average cost for moving out of state really is.
Luckily, you can actually save a lot of money using USAMovingCompanies.com when moving, but there are some things you just have to pony up the cash for.
To begin with, you will have to pay the deposit for the residence you are planning to move to. If you're renting an apartment, you probably have to fork over a whole month's rent to be kept by the apartment complex in case of damages when you move out.
If you are paying the bank for your new residence, you will likely have to give them a down payment or arrange payments with them.
When you move to another state, you will also have to change your address as well as your driver's license and maybe even your license plates if you want to or if you are legally required. All of this can add up. A new license could run you about $20 to $40, and license plate costs vary across different states.
But perhaps the costliest part of moving comes when you hire a moving service to help you get your furniture to your new residence. Moving costs vary between different companies, and each company comes up with their own rates and fees.
The average cost of moving out of state is anywhere from $1,500 to more than $4,500 on a move.
But while you can't save money when paying your deposits, utilities, and to change your license, you can save money by using USAMovingCompanies.com to hire your out-of-state moving service.
USAMovingCompanies.com can provide you with a handful of free quotes from moving companies that are fully licensed, bonded, and insured who can help you get to your new home with ease.
Visit our website and provide some information on your move to save up to 35% on your moving service.