Moving from one state to the other is part of our lives, and it is normal to change where we live once in a while. That feeling of moving to a new home can be fascinating; the process of packing your items is no walk in the park.
Furthermore, using state to state moving estimates can help you build an accurate moving budget by making you aware of those expenses you never thought of.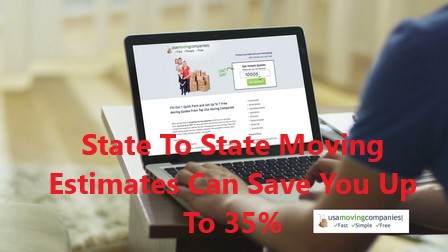 What You Will Pay To Move To Another State
The average cost to move between states is approximately $5,630 with an average weight of 7,100 pounds. A study conducted by the American Moving & Storage Association shows that an individual can even pay higher costs moving to the US currently at $12,459.
Storage Costs
When determining your state to state moving estimate, storage costs will be inclusive as you may be forced to store some of your goods. The price of storage is different depending on the exact location. For instance, 10 feet by 20 feet storage unit will cost you approximately $95 – $155 for a month. Don't accept anything more than this.
Utilities
Though some utility companies emphasize on making deposits, you should consider those utilities that you may leave behind in your quest of moving. Ensure to clear your electricity and various bills so that they cannot hinder you from moving. In addition to that, it will increase your moving costs.
Make Precise Decisions before Hiring a Mover
Take time and make more investigations before signing the contract with your desired moving company. Ensure your state to state moving company has been issued a license by the Federal Motor Carrier Administration (FMCSA).
To get the best state to state moving estimate, obtain bids from different coast to coast movers providers. Keep in mind that most mover companies offer either binding or non-binding estimate.
In this case, the binding estimate is significant due to the long distance of transporting your items. With this estimate, the cost agreed on-site with your mover will be constant even after transportation.
We've taken the load off of your shoulders by already having done the research of selecting those trustworthy companies. At www.usamovingcompanies.com we offer those multiple state to state moving estimates quotes to help you save up to 35% on your move while at the same time increasing your chances for a stress-free relocation.