Many people find it hard to figure out how much money to plan for a moving process. The fact is each moving company has its way of determining how much a move will cost. It primarily depends on factors like distance, the weight of the goods, and other additional services.
The process of relocation is accompanied by a lot of exhaustion. But with the appropriate moving in place, all your needs will be solved. Most packers and movers companies have provided a tool known as the cost calculator on their website that will help you understand the price of moving from one location to another.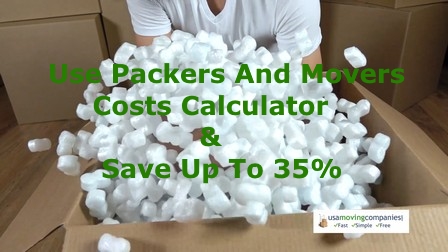 How Does The Packers And Movers Cost Calculator Work?
Packers and movers cost calculator has been designed in a way that it is easy to operate. Most companies avail the tool to customers as it is user-friendly. It works as follows;
• You are provided with a form, and you should enter all your details without forgetting your exact location.
• Within the page, fill in the location you are moving from and to. The respective buttons are visible on the same page.
• Thirdly, you will be required to offer information on the possessions you wish to move like your one bedroom house or car from one place to another.
• After that, you are required to provide your name and address. It will help the company to contact you.
• Finally, press the calculate button to know your moving cost.
• Other ways of determining the cost of moving
Apart from packers and movers cost calculator, the following can also be used to determine the value of moving;
Distance:
The distance from where you are moving is significant in calculating the cost of transportation. Short distances are charged hourly while for long distance, weight and number of items will be crucial. On that note, consider requesting on-site moving estimates to ensure you don't pay for transportation and other costs than the required amount.
You should browser over to www.usamovingcompanies.com to request multiple moving quotes from professional movers who have an extensive record of good customer satisfaction. If you really like to know how much movers would cost for your entire move, then it makes sense to get some real case of actual costs and prices.
When you start your relocation efforts with this approach, you're bound to save up to 35% on your budget while at the same time avoid fraud from those shoddy moving companies.
Click over here for information on Gauge The Total Price For Moving Among Multiple Quotes.