Moving out of state can be challenging, especially for a large family with plenty of personal stuff. You need to understand delivery spread, prepare to pack the car, research different travel options and get out of state moving quotes.
Your master plan must include getting all the details you need to move, which must include these quotes from out of state from different moving companies.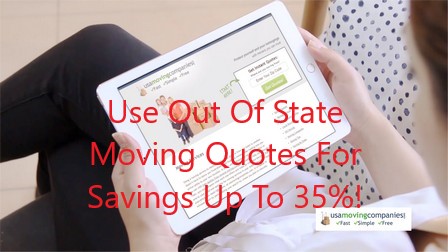 Why You Need To Get Multiple Out Of State Moving Quotes
You need to compare prices. It is not just okay to allow and accept an out of state mover just because they look professional in their uniform when you visited their profile online.
You need to get moving quotes that are for out of state moves so as to check with other companies to determine if the pricing is fair. Multiple quotes will also allow you to get the right kind of vehicle and understand the work that will be put into moving you out of state.
You have to ensure the moving dates is favorable for you, as well as information on the policy details and the insurance policies.
When Should You Get A Quote When Moving Out Of State?
The golden rule to requesting for out of state moving quotes is to do it on time, about 3 months before your moving date. Apart from allowing you enough time to make a decision on which company to choose, you will also have the time to bring in the movers for inspection, 4 weeks before your moving time.
Setting your moving period four weeks ahead of time will allow you to have a comprehensive cost breakdown. You will also have the space to determine and complete all the tasks, as you build up to your moving.
Getting the best deal from out of state moving quotes is all about knowing the right thing to do and doing it on time. Make a list of all the companies that provide the kind of service you want and choose the one that best suit your needs.
At www.usamovingcompanies.com we have paired with a selected few moving companies that have excel in customer satisfaction, price structure, and many years of service.
With our out of state moving quotes you will benefit as you negotiate the best deal and complete your move with up to 35% in savings.