Moving to a new state is different than moving across town or to a new city within the same state.
These out of state moving costs add up quickly if you are unaware of how the moving industry charges.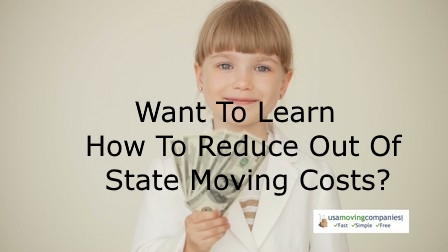 Be Cautious, Out Of State Moving Costs Have Many Variables:
In addition to the professional mover's time and service, you must also consider the interstate charges, the weight of your household goods, what items you can and cannot put onto a moving truck, fuel charges, what to do if there is a gap in the timing of when your new home is ready to move into and when your household items will arrive.
These are just a few of the considerations to think about when moving. So, when it comes time to hiring the right moving company, USA Moving Companies wants to make it easy on you by asking a few short questions to get started and then we put together a price comparison picture of all of the major top-notch moving companies across the states at no cost to you and with no commitment.
Loading up a moving van and watching it drive away headed to another state with the contents of your home inside is an exciting yet stressful time. That's why we want to take the worry and stress out of your moving experience.
Let us provide you with a side-by-side comparison personalized list of all of the out of state moving costs and other customized information you need to make an informed decision.
Simply visit www.usamovingcompanies.com and get started by filling out a simple-to-answer questionnaire that consists of questions like name, address, size of house, etc. Once we receive your answers, you will be able to compare moving services and compare moving prices, and overall experiences before you choose a moving company that's best for you.
Understand all of the out of state moving costs before you make your final decisions on hiring a reliable and affordable out of state moving company for your particular relocation.
Read about – Packers And Movers Cost Calculator To Determine The Cost Of Moving?