Have you ever wondered how reliable moving companies figure out moving costs? There are several factors that can affect the cost of your relocation so national movers need to use a system to provide a moving quote and estimate your moving costs.
Basically, the cost of your move depends on the weight of your belongings and the distance that you need to move them.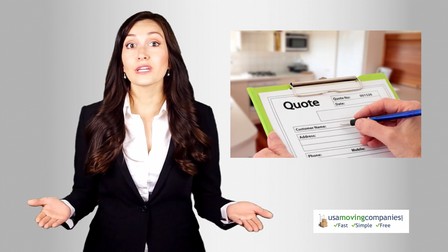 Generally, there is no fixed nationwide movers quote
Sometimes, moving companies estimate your moving weight based on the number of rooms in your house, but this is frequently wildly inaccurate.
The standard guess of 1000 pounds per room can fluctuate greatly in reality – there's really no such thing as an average household!
Reliable movers use a tariff schedule that provides a transportation rate per hundred pounds for different weight categories. The rate per hundred pounds decreases as the weight category increases, and vice versa. Within each weight category, there a weight known as the break-even point.
There is the weight where the transportation charges calculated using the hundred pound rate for the actual weight becomes higher than the transportation charges calculated using the hundred pound rate and starting weight of thee next weight category.
In this case your transportation charges will be calculated using the hundred pound rate and starting weight of the next weight category.
Charges that can affect your moving price include:
• City service charges;
• Ferry fares;
• Bridge tolls;
• Stair or elevator charges, and
• Fuel surcharges.
For a local move you're generally charged an hourly rate (within city limits and within a particular surrounding area of each city).
This rate provides a truck and movers who still load, transport and unload your things into the new residence. Nationwide movers quote varies from company to company. So, it's essential that you use our free quotes estimator to compare between the various packages available.
By requesting our moving quotes, we've made it simpler for you. We work only with trustworthy moving companies with very competitive price scheme and have a long track record of customer satisfaction.
Visit our site at usamovingcompanies.com to save up to 35% on your moving budget and enjoy a stress-free moving experience.