Depending on the national moving company that you use as well as the distance that you will be moving, many companies will choose to charge you by the weight of your entire load.
Weight is an important factor in moving. Not only will it influence the number of movers you will need, but it will also influence how many trips have to be made to safely transport your possessions. Basically, the heavier the furniture, the more expensive it will be to your pockets.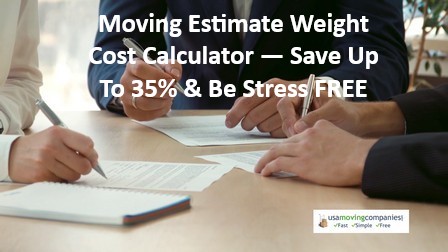 Moving Estimate Weight Cost Calculator Offer You An Inside View
A lot of moving companies charge by the size of your home unless you are planning to head out of state for your move. The average cost for weight-influenced pricing is about 50 cents per pound before the item is packaged.
Many people prefer this method and choose to use a moving estimate weight cost calculator to give them an approximate close moving estimate as to how much money it will cost to hire a moving service.
Weight-influenced pricing is easier to estimate as it charges so much per pound, whereas charging by the volume of furniture can't really be quantified easily. While a weight cost calculator gives you the closest estimate possible for your cross state moving service, it might not actually show you the best deals to take advantage of.
USAMovingCompanies.com is an easy and effective way to hire the best possible moving service for you. The site takes their services a step beyond the traditional moving estimate weight cost calculator and not only provides free, no-obligation quotes for moving services, it also can provide you with a variety of quotes from different services so that you can compare and save.
On the site, you can find a number of quotes for moving companies that provide full services including local and national moves; packing and unpacking services; protection for your valuables against the elements; and more. The moving companies we associate with are all fully licensed, bonded, and insured and ready to get you into your new residence.
For more information, or to start searching for a moving company today, visit USAMovingCompanies.com and save up to 35% on your upcoming relocation.
Moving company quotes to help you avoid the typical mishaps of a poorly executed relocation.