According to the moving and relocation industry, a move is considered a long distance move when the distance between the two end points is more than 100 miles when contracting the services of a mover.
Long distance moving costs are diverse that include stair fees, extended carry fees, elevator fees, shuttle fees, extra stop fees, storage fees, and substantial item fees, in addition to differing from local moves in that they are charged by size or weight instead of labor hours.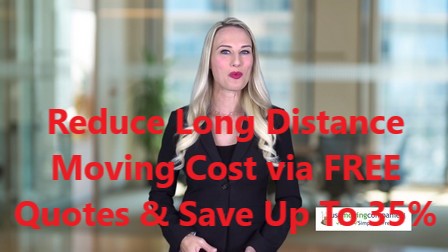 Break Up Your Long Distance Moving Costs
Stair and elevator fees apply if the movers should carry items up eight or more stairs, or if they should use an elevator. Extended carry fees apply when the long distance moving company must carry items farther than seventy-five feet when conveying from the loading or unload destination to the truck.
The cost of a long distance move maximizes with each additional fifty-foot increment. When the moving company must use a smaller vehicle called a shuttle to transport your items from the truck to the final unload destination, shuttle fees are incurred (this takes place when the truck cannot fit at or near the last location). Storage fees and extra stop fees are incurred as a result of the moving company being obliged to store your items for any period, or from having to unload at multiple locations.
Another tip for simplifying a long distance moving cost is to get a dedicated truck. This is a service that will cost an extra fee.
However, it will add a level of convenience and security to your move that makes it worth the cost. In the moving industry, the term "dedicated truck" is referred to a truck that is used for only one delivery or shipment. This offers the distinctiveness of having your items travel alone, and the convenience of having the truck makes no other stops or transfers.
If would like to have privacy for your items, along with the guarantee that they will not make any other stops before arriving at your destination, then you want a dedicated truck.
Knowing these facts about a long distance move should help you on deciding on a good moving company. Our approach is to learn how long distance moving company costs are structured based on moving quotes to accurately build a true cost analysis of your relocation.
When movers are competing for your business, the chances are much greater that you would end up with the best deal for your own particular relocation.
When you click over to www.usamovingcompanies.com you'll have a chance to request long distance moving quotes to help you compare prices, services, and find the best overall value for your move.
Nothing is left than to find a mover that can provide the services you need at a rate that fits your financial plan.