Moving is stressful enough without wondering how much is adding up in hidden fees or other expenses you hadn't considered.
Before you put the first household item into a box to get it ready to move, visit USA moving companies for a free, no-obligation interstate moving cost calculator where you will be able to make an informed decision of what moving company is best for you and your moving needs.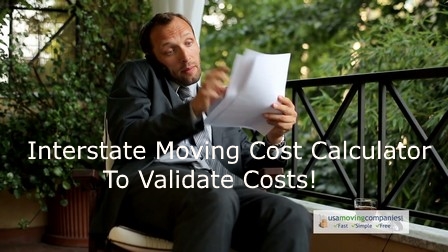 Use Interstate Moving Cost Calculator To Gauge The Total Moving Expense:
Our interstate moving cost calculator is the smart and quickest way to get all of the information you need in one spot and at your fingertips.
By simply filling out a few easy-to-answer questions, you will have a list of several price quotes from reliable interstate moving companies who are ready to serve you. How large is the home you are packing up to move, and where is the new home located?
These are just a couple examples of the basic questions we use to get you the most accurate quotes.
Making a move is a big event, but it doesn't have to be over priced. Get quality service by comparing moving prices before you move easily, quickly, and accurately in one spot online from the privacy and comfort of your home. Once you have all of the researched information done for you, then you would be now armed to make your best decision knowing you are not over spending.
Be informed and know exactly where your money is being spent by using our interstate moving cost calculator approach on one easy-to-use website.
Find a trusted moving company at the most affordable price by simply answering a few fast questions at www.usamovingcompanies.com which will then compile the costs and other personalized criteria to allow you to compare prices at no charge to you and no obligation so you can make a knowledgeable choice for who to hire for your moving needs.