When you decide to move, for a job or personal reasons, one of the first things that you may begin to worry about is the cost associated with relocating to another state. So, how much does it cost to relocate to another state is a question that should pop up very often when you're face with moving?
In 2014, the American Moving and Storage Association estimated that it costs the average American about $5,630 to move to another state. However, other studies show that it may even more to move, and these numbers are only climbing and the years move on.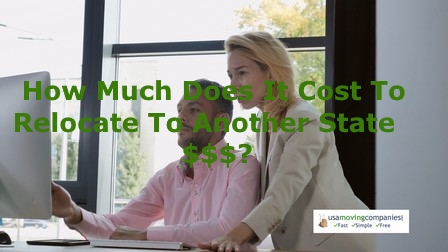 The Cost To Relocate To Another State Has Many Factors:
The cost of relocating to another state depends on how much do movers would charge you and it's typically decided by a number of factors during the process.
To begin, you will likely have to pay several hundred dollars in fees to utility companies to turn on your power, water, and other services. You will also have to pay down payments on your new residence, which may be a whole month's rent if you are planning on renting.
You may also have to pay for storage services if you have already sold your home or your lease has run out and you are staying with a friend. For someone with a two-bedroom apartment, it isn't likely that you'll have any other option on storing your things. According to Storage.com, the average 10 by 20 storage unit can cost about $100 a month. The longer you take to move, the longer you will have to pay that fee.
Lastly, and most importantly, the moving services you choose could yield a high cost when you pose the question of how much does it cost to relocate to another state. However, there are tools available to help you find the best deal on your move across state lines.
USAMovingCompanies.com is a website that helps you connect with a number of moving quotes from trusted moving companies that are able to handle the caliber of your move.
You just have to visit the site, type in your zip code, add additional information about your move, and be connected nearly instantly with quotes from moving companies who can help.
While you likely can't lower the price of your utility fees and storage unit costs, you do have control over what you pay to a moving service. Make the right choice by requesting moving quotes from USAMovingCompanies.com. You're bound to save up to 35% on your budget while at the same time, enjoy a stress-free relocation.