Moving to another state needs more preparation and time than local moves. For a successful relocation, it's significant to hire professionals to do it for you.
You can't fundamentally do it by your self-considering that there are many risks involved during transportation and it can be costly to cover the costs on your own.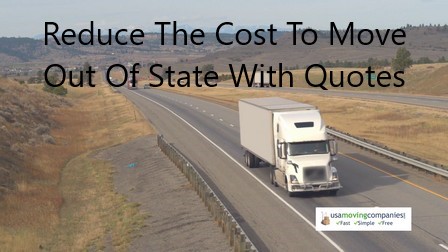 You need the services of an out of state moving company. Various moving companies come to your rescue on your moving situation.
It is essential to choose a moving service provider that will ensure your item are delivered in good condition regardless of the many challenges in place. Before contacting a moving company, get to understand the cost to move out of state.
The Cost To Move Out Of State
Most companies consider the following factors to determine the value of your state move;
The weight and number of items on transit –, with an increase in the number of items, the weight will surge, and you will pay more.
Additional services – Your state move will not only involve transportation but factor other additional services like packing, unpacking, storage, etc. It means each service in use will be added to the last billing
Distance – the difference in distance will ultimately determine the cost to move out of state.
For instance, the cost for a cross-country move with a difference of 1,000 miles will cost you $1,500 – $1.700 for a 2000lbs shipment. A one bedroom apartment with an average weight of 2,500 -3,500mlbs will make you part with averagely $2,000 – $2,700.
For customers, it is significant to use binding out of state moving estimates from different companies to determine the quality of service provided by each service provider and the cost to move out of state.
For these types of moving quotes that are out of state, we invite you to visit www.usamovincompanies.com to request a very selected list of quotes from those trustworthy companies with years of service in the industry and many established customer feedback.
You stand the chance to save up to 35% and avoid becoming a victim of a botched relocation. It will give you a clear picture of the best company to choose depending on the service they offer.