You have to make a long distance move and you wonder how much it costs in total as you need to plan your budget accordingly.
It's not surprising, but it's also not easy calculating the average cost of long distance moves as so many factors have to be taken into consideration.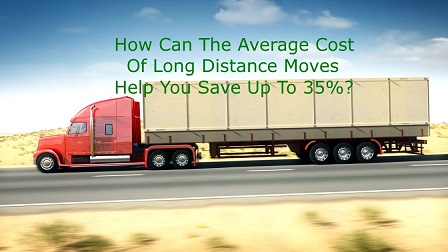 Average Cost Of Long Distance Move Has Many Factors:
The most important factor is your pickup and drop-off locations where the longer the distance is between the two spots, the higher the moving costs are.
Professionalism and reliability are also important factors to remember as you will be entrusting your valuables to the hands of the long distance moving company.
While new and amateur firms may quote lower rates, there is the risk of their inexperience leading to same damages and complications during the move.
Packing and unpacking costs also figure in the average cost of long distance moves. You choose between taking care of the packing yourselves or hiring professionals to do it for you.
While you may think you can save money doing it on your own, you may not pack valuables correctly and risk damage to them in transit.
Professionals know and use the right packing materials and moving boxes to pack your belongings safely. There is also a matter of packing insurance. Movers who don't pack belongings are not going to be held liable for any damage due to poor packing standards.
Of course, the number of people who come to help you with the packing, unpacking, and loading of your belongings also affect the moving costs, along with the number of hours spent on your job.
With so many factors affecting your average cost of a long distance move, it's better to compare moving estimates from different movers before finally choosing one. As this can be a tedious process if you don't have much time on hand, we at usamovingcompanies.com have made things easier for you.
We have compiled a list of the best movers around for you to conveniently get a moving quote and start your search for a reliable moving company. The end result is that you could save up to 35% while knowing the fact your move is in very trusted hands.