Plan on hiring a mover and don't know what the average cost of hiring movers would be?
Actually, there are many essential things to keep in mind when moving to a new apartment but nothing can possibly compare to knowing how much moving companies charge in various related scenarios.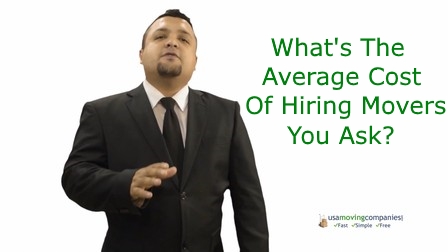 Compare The Average Cost Of Hiring Movers With Your Own Move:
The cost of moving depends on a number of important factors, including the type of the move itself – is it a local move or a long distance move?
As you might suspect, there are specific moving company fees that apply to each one of these types of moves and determine the final price of movers. And of course, knowing what to expect in advance is definitely a bonus, a good start to your moving adventure.
Most movers charge by the hour, so based on average local moving costs, hiring two men and a truck will cost you between $120 and $160 per hour. When moving in town, moving labor only (without the moving truck) will cost about $80 to $120 per hour.
Depending on where you live, state and metro area, the average cost of hiring movers will vary. Y?u will be charged an hourly rate for the time movers spent working on you move. This hourly rate applies whether the movers are wrapping, loading or driving from point A to point B.
Travel fees may also apply depending on the pick up location. In many cases, this fee could be negotiated between the moving company and client depending on the travel distance to the customer moving location.
You may also be charged for packing materials. Make sure you keep this in mind when you ask them to estimate your moving costs. You can use a local moving cost calculator form as a cost estimator about the entire move.
Of course, the size of your home does matter when calculating the cost of local moving. Taking into account the average charge of around $25 per hour per mover.
Get in touch with us today and get further consultation or better estimate on what the average cost of hiring movers would be!
Begin by visiting www.usamovingcompanies.com to learn how you can save up to 35% on your move while at the same time, have a straightforward relocation.
Click here to read about What Is the Average House Moving Cost?