Knowing the average cost for a moving company will be significant in choosing the appropriate company for you. It's based on factors like; the type of move (either a long distance or a local move) and the average cost you will incur for hiring that moving company.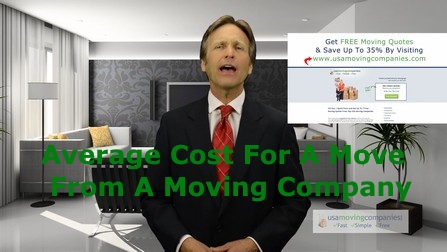 Factors That Influence The Average Cost For A Mover For Your Relocation:
The Average Cost for a Long Distance:
The price for your long distance move will be determined by the weight of your goods and the distance to your new home.
Expect to pay for an average cost of a moving company about $4,300 for a distance of 1,225 miles for 7,400 pounds goods without any other additional services.
It is how moving companies calculate the cost of your transportation. However, in some rare cases, the company can estimate values by measuring the cubic units of the goods to be transported.
To have an exact figure of your cost, consider requesting an onsite moving quote for your relocation. The moving company will then send their staff to review your moving load and provide a reliable moving estimate.
Binding Moving Estimates:
For the long distance movers, it is ideal to use on-site estimates from different companies to determine the actual average cost for each moving company. Most customers don't understand its benefits, especially when calculating the average price for a moving company for their own move.
With an on-site estimate, you are assured of no any other additional costs after the delivery of your goods to a long distance carrier so you don't exceed your established budget.
Kindly, discard any estimates based on a phone call from those unprofessional moving companies. A visual or definitive review of your items is paramount for a solid base of how much do movers cost for your relocation.
You should insist on a visit from the carrier to ensure your moving situation is within your guidelines and minimize any possibility of moving fraud.
We at www.usamovingcompanies.com have made partnerships with a selected group of reliable and customer centric moving companies to save you time in the research of finding a good company while at the same time saving you up to 35% of your move.